House approves six-year highway bill
Posted November 9, 2015
After three days of debate and decisions on over 100 amendments, the U.S. House of Representatives has passed a bipartisan, multi-year surface transportation bill to reauthorize and reform federal highway, transit, and highway safety programs.
The Surface Transportation Reauthorization and Reform Act of 2015 (the STRR Act) was approved on November 5, 2015, by a vote of 363 to 64. The legislation authorizes spending up to $325 billion on transportation projects over six years.
"I am very pleased, that after ten years of short-term band-aids and extensions, the House finally passed a bipartisan, six-year transportation bill," said Transportation and Infrastructure (T&I) Committee Ranking Member Peter DeFazio (D-OR).
The bill now heads to a conference committee to work out differences with a Senate version passed in July. Lawmakers have until November 20 to pass the final legislation before another short-term patch will be needed.
"The STRR Act provides strong reforms and policies to help us improve America's transportation system, and now we can get to work on resolving the differences with the Senate bill and carry a final measure over the goal line," said T&I Committee Chairman Bill Shuster (R-PA).
Among many provisions aimed at the Federal Motor Carrier Safety Administration (FMCSA), the legislation would:
Remove Compliance, Safety, Accountability (CSA) scores and alerts from public view within one day after the final highway bill is signed into law, although inspection and violation data can remain public.
Require the FMCSA to commission the National Research Council to conduct a rigorous study of the entire CSA program, and delay any use of CSA scores to make safety fitness determinations.
Allow carriers to conduct pre-employment and random drug testing using hair samples.
Authorize spending to train new drivers, especially veterans.
Require the FMCSA to study and then develop a pilot program to allow younger drivers, aged 19½ years or older, to obtain a graduated commercial driver's license.
Require the FMCSA to further study the impact of changes to insurance requirements before making any changes to the financial responsibility regulations.
Require the FMCSA to more carefully weigh a new rule's impact on various segments of the motor carrier industry, and to use new procedures when drafting rules that are deemed economically significant.
Require the FMCSA to give carriers credit under CSA for the use of advanced safety tools, programs, and equipment.
Require the FMCSA to review all its regulations every five years, making sure they are consistent, clear, and uniformly enforced. The agency would also have to review and update its guidance documents, and would have to update and/or incorporate any new guidance into the regulations within five years.
Require the FMCSA to explain to Congress why it has missed deadlines for important new rules, including the rules for electronic logging devices, entry-level driver training, and the drug/alcohol clearinghouse.
The legislation would also require a study of the possibility of establishing a phone or internet-based system that would allow drivers and motor carriers to self-report equipment failures that are found en route.
http://transportation.house.gov/strr-act/
http://transportation.house.gov/news/documentsingle.aspx?DocumentID=399545
http://transportation.house.gov/uploadedfiles/hr_3763_ih.pdf
---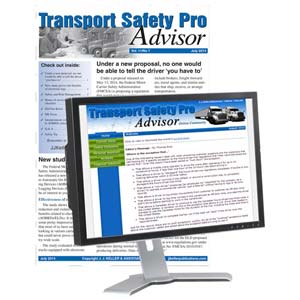 J. J. Keller's Transport Safety Pro Advisor helps you stay on top of the latest regulatory and non-regulatory issues affecting the motor carrier industry.
---
J. J. Keller's FREE Transportation SafetyClicks™ email newsletter brings quick-read safety and compliance news right to your email box.
Sign up to receive Transportation SafetyClicks™.