Non-health care employers, OSHA has news for you, too
Posted June 18, 2021
If you're not in health care, you might want to disregard OSHA's new Emergency Temporary Standard (ETS), since it applies only to those in that industry. You might, however, want to pay attention to OSHA's updated guidance regarding all workplaces, since all employers are responsible for providing a safe and healthy workplace free from recognized hazards, like COVID-19, likely to cause death or serious physical harm.
To begin with, OSHA indicates that most employers no longer need to take steps to protect their workers from COVID-19 exposure in any workplace, or well-defined portions of a workplace, where all employees are fully vaccinated. According to the EEOC, employers may mandate that employees are vaccinated, barring reasonable accommodations for medical conditions or religious beliefs.
Otherwise, OSHA expects you to work with employees to come up with "multi-layered interventions" to protect unvaccinated or otherwise at-risk workers and mitigate the spread of the virus.
These interventions include the following:
Grant paid time off for employees to get vaccinated. Providing paid time off can help encourage employees to receive the vaccines. If your company has fewer than 500 employees, it may also be eligible for tax credits under the Families First Coronavirus Response Act if you provide paid time off for employees who decide to receive the vaccine and to recover from any potential side effects from the vaccine.
Tell unvaccinated employees to stay home when sick or exposed. To help with this, make sure your absence policies are non-punitive. Eliminate or revise policies that encourage workers to come to work sick or when unvaccinated workers have been exposed to COVID-19. Again, granting paid time off, even under the FFCRA may encourage employees to stay home.
Maintain distancing for unvaccinated and otherwise at-risk employees in all communal work areas. Keep these employees at least six feet from other unvaccinated or otherwise at-risk people (workers or customers). If the area is poorly ventilated, increase this distance. If distancing is impracticable, use shields or other solid barriers. Limit the number of unvaccinated or otherwise at-risk workers in one place at any given time.
Provide and require unvaccinated and otherwise at-risk employees to wear masks. That is, unless their work requires a respirator or other PPE. Employees who are unable to wear masks due to a disability under the ADA or who need a religious accommodation under Title VII of the Civil Rights Act may need reasonable accommodations.
Many of the other suggestions involve what we've known for many months, such as ventilating and disinfecting the workplace and reporting outbreaks to the local health department.
Employers may also want to require unvaccinated visitors to wear masks. If this poses a challenge, consider requiring all visitors to wear masks.
Finally, ensure that employees are familiar with any COVID-19-related policies and procedures, which may mean using accessible formats and in languages they understand.
The OSHA guidance does not cover all issues employers will confront in the workplace, such as identifying who is vaccinated, incentivizing vaccinations, and mask shaming. For that, turn to the EEOC. State laws, of course, also must be considered, and at least one state (Montana) prohibits employers from requiring employees to disclose their immunization status.
This article was written by Darlene Clabault of J. J. Keller & Associates, Inc.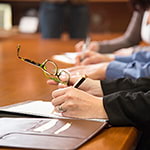 Looking for more on HR compliance?
Get the information and products you need to stay on top of industry changes and comply with regs.