e-Manifest destiny: Major changes to hazardous waste manifests coming June 30, 2018
Posted March 30, 2018
EPA plans to launch the hazardous waste electronic manifest system (e-Manifest) on June 30, 2018. In an effort to help the regulated community get ready for the changes, the Agency has regularly updated its e-Manifest webpages, held monthly webinars, and hosted various workshops.
Most recently, EPA released new Frequently Asked Questions (FAQs) on how the e-Manifest system will work. The FAQs cover a wide range of concerns about the e-Manifest system, including the ability to continue using paper manifests, user fees, signing the manifest, registering to use E-Manifest, corrections to a manifest, how long EPA will keep the manifest data, and more. Find a link to the new FAQs at github.com/USEPA/e-manifest.
Note that June 30, 2018, is the date when the e-Manifest system will become effective in all states, even if a state has not adopted the e-Manifest rule or assumed implementation and enforcement responsibilities.
After June 30, 2018, hazardous waste generators will begin using EPA's electronic manifest system, continue using paper manifests, or a hybrid of the two. EPA is replacing the current 6-part manifest with a new 5-part manifest form. The changes to the form include replacing the two copies that were previously earmarked for distribution to the states with one copy that will be sent to the federal e-Manifest database.
Once the system is up and running, the public will have access to manifest data approximately 90 days after the receiving facility receives the waste. This gives all the waste handlers involved with the manifest time to sort out any discrepancies and make corrections. Also, certain data from manifests that involve the shipment of Chemicals of Interest under chemical security rules issued by the Department of Homeland Security will be redacted from the manifests and not made available to the public.
---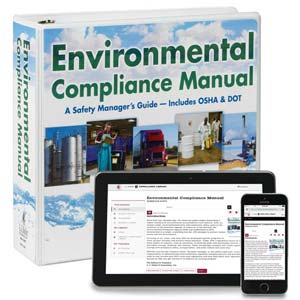 J. J. Keller's Environmental Compliance Manual is packed with easy-to-understand information on regulations, environmental issues and compliance.
---
J. J. Keller's FREE Workplace SafetyClicks™ email newsletter brings quick-read workplace safety and compliance news right to your email box.