FMCSA fines to include Clearinghouse violations
Posted January 12, 2021
The U.S. Department of Transportation published a final rule that adjusted civil penalty amounts and gave authority to issue fines for violating Drug and Alcohol Clearinghouse requirements.
Statutes require federal agencies to revise minimum and maximum penalties to reflect inflation. This action helps preserve the deterrent impact of fines. Fine amounts have been increased 1.01764 percent.
Appendix B to Part 382 of the Federal Motor Carrier Safety Regulations (FMCSRs) was revised to include civil penalties for an employer, employee, medical review officer, or service agent who violates the Drug and Alcohol Clearinghouse requirements in Part 382.
The new civil penalties are effective January 11, 2021. The penalty adjustments apply only to violations that take place after the effective date. This rule also does not change previously assessed or enforced penalties that DOT is actively collecting or has collected.
Note: that Clearinghouse violations can still be cited and fined even though they occurred prior to the effective date of this rulemaking.
This article was written by Kathy Close of J. J. Keller & Associates, Inc.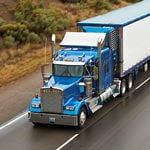 Looking for more on transportation safety?
Get the information and products you need to stay on top of industry changes and comply with regs.