Form I-9: COVID-19 flexibility extended to April 30
Posted December 21, 2021
A policy extension from the U.S. Immigration and Customs Enforcement (ICE) gives employers the option to inspect Form I-9 documents virtually through April 30, 2022.
The flexibility policy, originally put in place on March 20, 2020, had been set to expire on December 31. The policy allows employers to inspect Form I-9 documents virtually (such as by email, secure upload, or fax) for employees working remotely due to COVID-19.
Once employees are in the office regularly, or when the flexibility period ends, the physical documents must be examined in person.
Why is this flexibility helpful?
Normally when employees begin work, an employer must physically inspect documents, such as a passport, driver's license, or social security card, to complete Section 2 of the Form I-9. The section must be completed within three business days of the employee's start date.
The documents could be examined by the employer or an agent chosen by the employer. If an employer uses an authorized agent, the employer remains responsible for any errors.
The option of a virtual inspection lets remote workers avoid the travel required for an in-person document inspection, allowing them to begin working more quickly. It also allows experienced staff members to do the inspection.
What should employers do now?
Employers using virtual inspection for remote employees should:
Keep track of employees who will need to have their documents inspected in-person,
Have a plan for contacting employees who will need to have documents inspected in-person,
Have a plan for document inspection by authorized agents or at the worksite, and
Understand how to update the Form I-9 after the review has been completed.
Employers do not need to wait until the flexibility period ends to do the in-person inspection. They could inspect the documents and update the form at any time.
No exception for employees in the office
If employees are physically present at a work location, there is no exception to the in-person verification of identity and employment eligibility documentation for Form I-9. The physical documents must be inspected.
Will flexible inspection become permanent?
The Department of Homeland Security is interested in employers' experiences with remote document examinations. Through December 27, it is accepting comments at https://www.regulations.gov as it looks to understand the costs and benefits of remote document examination.
Depending on the feedback received, this could be the first step in making remote document inspection permanent.
This article was written by Terri Dougherty of J. J. Keller & Associates, Inc.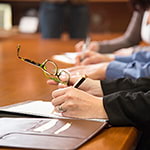 Looking for more on HR compliance?
Get the information and products you need to stay on top of industry changes and comply with regs.