BLS: Fatal work injuries in 2020 down 10.7 percent from 2019
Posted December 22, 2021
A total of 4,764 people lost their lives at work in 2020, a decrease of 10.7 percent over 2019, according to the Census of Fatal Occupational Injuries (CFOI), which was released by the Bureau of Labor Statistics (BLS) on December 16. This represents the lowest annual number since 2013.
Key findings from the 2020 CFOI include:
In 2020, a worker died every 111 minutes from a work-related injury.
Transportation incidents remained the most frequent type of fatal event, with 1,778 fatal injuries, accounting for 37.3 percent of all work-related fatalities.
Workers in transportation and material moving occupations and construction and extraction occupations accounted for nearly half of all fatal occupational injuries (47.4 percent), representing 1,282 and 976 workplace deaths, respectively.
Suicides decreased 15.6 percent from 307 in 2017 to 259 in 2020, representing the lowest count for occupational suicides since 2015.
This article was written by Rachel Krubsack of J. J. Keller & Associates, Inc.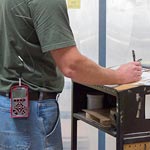 Looking for more on workplace safety?
Get the information and products you need to stay on top of industry changes and comply with regs.