Will you keep unvaccinated employees out of the workplace?
Posted December 18, 2020
On December 16, the Equal Employment Opportunity Commission (EEOC), which enforces the federal employment non-discrimination laws, provided input regarding workplace COVID-19 vaccine mandates.
In its publication "What You Should Know About COVID-19 and the ADA, the Rehabilitation Act, and Other EEO Laws," the EEOC reiterated that employers must generally consider accommodations for employees who do not receive the vaccine due to medical conditions or sincerely held religious beliefs. The guidance went on to indicate the following:
"If there is a direct threat that cannot be reduced to an acceptable level, the employer can exclude the employee from physically entering the workplace, but this does not mean the employer may automatically terminate the worker."
This "if" requires serious consideration. Employers are not to jump to a conclusion that an employee poses a direct threat. Relevant factors can include the employee's job tasks, the workplace, number of employees who already are vaccinated, and the amount of contact with others whose vaccination status could be unknown.
As with any request for a workplace change due to a medical condition or religious belief, employers first need to investigate reasonable accommodations that would allow the employee to perform the job. This generally involves talking to the employee, with a focus on identifying an effective accommodation.
Accommodations could include working remotely, which would also keep the employee out of the workplace, but still allow the employee to work. Employees may also be entitled to leave under applicable laws or company policies.
Only if the employee would pose a direct threat, and no accommodation would reduce or eliminate the threat, could employers take the stance that the employee stays out of the worksite. Strong documentation supporting such a determination is a must.
The EEOC also astutely points out that "Managers and supervisors responsible for communicating with employees about compliance with the employer's vaccination requirement should know how to recognize an accommodation request from an employee… and know to whom the request should be referred for consideration." The lack of such training has led to numerous court cases in the past, and a poorly communicated vaccine mandate could also increase risk of claims.
Tread carefully, friends.
This article was written by Darlene Clabault of J. J. Keller & Associates, Inc.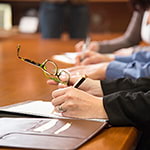 Looking for more on HR compliance?
Get the information and products you need to stay on top of industry changes and comply with regs.