Telemedicine treatment for FMLA to continue
Posted December 31, 2020
Back in July and because of the pandemic, the U.S. Department of Labor (DOL) updated its stance on whether telemedicine (or medical televisits) would suffice as treatment for purposes of the Family and Medical Leave Act (FMLA) — at least until December 31, 2020. It has now accepted the practice going forward beyond 2020.
On December 29, with little time to spare, the DOL indicated that, because of the ongoing and broad effective use of telemedicine with a health care provider, it will continue to accept it and employers will need to be aware of this change January 1 and thereafter.
The FMLA's regulations currently indicates that "treatment" must be in-person: "The requirement...for treatment by a healthcare provider means an in-person visit to a health care provider." [29 CFR 825.115(a)(3)]
The regulations do not, however, define "in-person."
The DOL's guidance now provides some insight into that definition. To be considered in person, telemedicine visits must meet some criteria. Such visits must involve the following:
An examination, evaluation, or treatment by a health care provider;
Be permitted and accepted by state licensing authorities; and,
Generally, should be performed by video conference.
Other communication methods that do not meet these criteria, such as a simple telephone call, letter, email, or text message, are insufficient, by themselves, to satisfy the regulatory requirement of an "in-person" visit.
Telemedicine typically involves face-to-face examinations or treatment of patients by remote video conference via computers or mobile devices. Telemedicine allows patients to maintain access to the care they need, with added advantages such as decreased travel time and expense for patients in rural areas, reduced exposure to potential infections for vulnerable patients, and reduced need for healthcare staff to exhaust personal protective equipment and patient care supplies.
Whether the regulations will be updated to reflect this altered stance remains to be seen. They may not need to be changed, as the DOL's guidance on how it defines an in-person visit may be enough.
This change is one of many brought on by the pandemic. While it will be beneficial to employees, it provides another consideration for employers, as they need to be vigilant in determining whether telemedicine visits meet the applicable criteria.
Oh, and electronic posting of the FMLA poster is also acceptable.
This article was written by Darlene Clabault of J. J. Keller & Associates, Inc.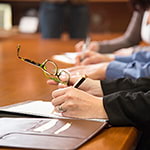 Looking for more on HR compliance?
Get the information and products you need to stay on top of industry changes and comply with regs.