Rule change will allow instructors to administer CDL skills test to students
Posted December 23, 2020
The wait to take a commercial driver's license (CDL) skills test may become shorter, due to a new regulation that will allow another option for skills testing.
The Federal Motor Carrier Safety Administration (FMCSA) has announced a new rule change that will allow states to permit a third-party skills test examiner to administer the CDL skills test to applicants to whom the examiner has also provided skills training.
Currently, a third-party CDL skills instructor who is also authorized by the state to administer the CDL skills test is prohibited from performing both the instruction and the qualifying testing for the same CDL applicant.
In many states, the wait to take a CDL skills test can be several weeks. If a driver cannot successfully complete the CDL skills test on his or her first try, he or she must then wait several more weeks to retest.
This change is expected to assist in speeding up the process of administering skills testing by allowing a larger number of qualified individuals to administer the test.
This final rule will become effective 60 days after it is published in the Federal Register.
This article was written by Jill Schultz of J. J. Keller & Associates, Inc.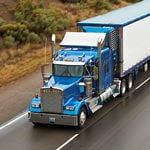 Looking for more on transportation safety?
Get the information and products you need to stay on top of industry changes and comply with regs.