Nevada OSHA warns of individuals posing as inspectors
Posted December 23, 2020
Nevada OSHA says it has received reports that individuals posing as Nevada OSHA officials are contacting businesses throughout the state. The agency reminds employers that its inspectors must:
Present their credentials whenever they make contact with management representatives, employees (to conduct interviews), or organized labor representatives while conducting an official inspection. At the beginning of the inspection the OSHA inspector will locate the owner representative, operator, or agent in charge at the workplace and present credentials.
Follow specific protocols to conduct an inspection and do not issue citations or assess penalties on the spot.
If employers suspect an individual is impersonating an OSHA official, they should ask for their credentials, get their name, and write down any other information that may be helpful in identifying the individual. The incident should be reported to Nevada OSHA.
This article was written by Rachel Krubsack of J. J. Keller & Associates, Inc.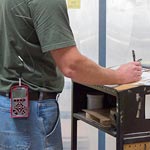 Looking for more on workplace safety?
Get the information and products you need to stay on top of industry changes and comply with regs.