Final rule requires benefit-cost analyses for all significant clean air rules going forward
Posted December 11, 2020
On December 9, 2020, EPA finalized a procedural rule intended to ensure consistent analyses of benefits and costs for significant rules under the Clean Air Act (CAA). The final rule codifies best practices for benefit-cost analysis (BCA) in rulemaking. EPA says the goal of the rule is to ensure all future significant air rules are accompanied by a publicly available BCA using the best available scientific information.
Critics of the rulemaking argue it will hamstring the Agency's ability to promulgate tougher curbs on pollution in the future. Under the new rule, EPA must consider the economic impact of a proposed air rule without considering secondary public health benefits. Until now, EPA has used that measurement to defend expanding regulations.
The rule consists of three main requirements:
EPA will prepare a BCA for all future significant proposed and final regulations under the CAA. Significant regulations are those with a large annual impact on the economy or that would disproportionately affect an industry, group, or area.
The BCA are developed in accordance with best practices from the economic, engineering, physical, and biological sciences. The rule outlines required elements of BCAs, following established protocols for conducting cost analyses published by the Office of management and Budget. These include addressing all key elements of a BCA and, to the extent permitted by law, making underlying data available to the public.
EPA must increase transparency in the presentation of the benefits and costs resulting from significant CAA regulations. EPA will also require separate reporting of the public health and welfare benefits expected from a proposed regulation under the CAA.
The rule will become effective on the day it is published in the Federal Register, but it will not apply to proposed rules that were published before the effective date.
This article was written by Lisa Neuberger of J. J. Keller & Associates, Inc.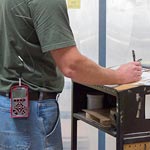 Looking for more on workplace safety?
Get the information and products you need to stay on top of industry changes and comply with regs.