BLS: Fatal workplace injuries up 2 percent from previous year
Posted December 18, 2020
A total of 5,333 people lost their lives at work in 2019, an increase of 2 percent over 2018, according to the Census of Fatal Occupational Injuries (CFOI), which was released by the Bureau of Labor Statistics (BLS) on December 16. This represents the largest annual number of fatal occupational injuries since 2007.
Key findings show alarming trends
In 2019, a worker died every 99 minutes from a work-related injury.
Fatalities among workers age 55 and over increased 8 percent from 1,863 in 2018 to 2,005 in 2019, the largest number ever recorded for this age group. In 2019, workers 55 and over accounted for 38 percent of all workplace fatalities; in 1992, this demographic accounted for 20 percent.
Hispanic or Latino worker fatalities were up 13 percent to 1,088 in 2019 – a series high since 1992. This demographic made up 20 percent of fatal occupational injuries in 2019; in 1992, they made up 9 percent.
Workplace deaths due to suicides (307) and unintentional overdoses (313) increased slightly in 2019.
Fatalities in the private construction industry increased 5 percent to 1,061 – the largest total since 2007.
Driver/sales workers and truck drivers incurred 1,005 fatal occupational injuries, the highest since 2003.
Transportation incidents increased 2 percent in 2019 to 2,122 cases, the most since 2011. Events involving transportation incidents continued to account for the largest share of fatalities for all industries.
Falls, slips, and trips increased 11 percent to 880.
Exposure to harmful substances or environments led to the deaths of 642 workers, the highest figure since 2011.
Unintentional overdoses due to nonmedical use of drugs or alcohol increased for the seventh consecutive year to 313.
This article was written by Rachel Krubsack of J. J. Keller & Associates, Inc.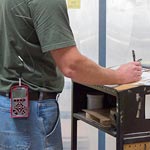 Looking for more on workplace safety?
Get the information and products you need to stay on top of industry changes and comply with regs.