OSHA updates NEP on amputation hazards in manufacturing
Posted December 16, 2019
OSHA has issued an update to its National Emphasis Program (NEP) on amputation hazards in manufacturing industries. The NEP provides updated guidance for Compliance Safety and Health Officers (CSHOs) conducting inspections in manufacturing workplaces having machinery and equipment that can potentially cause amputations.
Of note, OSHA is now using amputation reports that employers have made, as well as BLS incident rate and amputation rate data for selecting industries likely to have equipment that could cause amputations. According to OSHA, 75 NAICS codes are covered under the NEP (all manufacturing) and can be found in Appendix B of the compliance directive (CPL 03-00-022).
OSHA regional and area offices will implement a 90-day outreach program that supports the NEP. During this period, the manufacturing industries with NAICS codes listed in Appendix B will be offered outreach prior to undergoing inspections under the NEP. Outreach also will include recordkeeping requirements under 1904.39, dealing with the reporting of work-related amputations.
This article was written by Rachel Krubsack of J. J. Keller & Associates, Inc.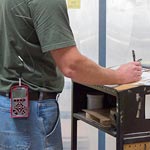 Looking for more on workplace safety?
Get the information and products you need to stay on top of industry changes and comply with regs.