FMCSA begins implementing Beyond Compliance program
Posted December 23, 2019
The Federal Motor Carrier Safety Administration (FMCSA) will begin gathering information from motor carriers as it considers implementing the Beyond Compliance program.
The Beyond Compliance program would give incentives to motor carriers that adopt proven safety tools, technologies, or practices. The agency is seeking approval from the White House to survey a select group of roughly 100 motor carriers that have above-average safety programs.
The program stems from the 2015 Fixing America's Surface Transportation Act, or FAST Act. The FMCSA first collected input on this from carriers in April 2015.
The FMCSA plans to collect existing data from a select group of motor carriers.
Public comments on the FMCSA's plan to survey these carriers will be accepted through February 18, 2020. Comments can be submitted to the Federal eRulemaking Portal at docket number FMCSA-2018-0328.
This article was written by Dave Lubach of J. J. Keller & Associates, Inc.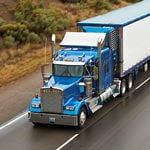 Looking for more on transportation safety?
Get the information and products you need to stay on top of industry changes and comply with regs.