BLS: Fatal workplace injuries up 2 percent from previous year
Posted December 31, 2019
A total of 5,250 people lost their lives at work in 2018, an increase of 2 percent over 2017, according to the Census of Fatal Occupational Injuries (CFOI), which was released by the Bureau of Labor Statistics (BLS) on December 17. The fatal work injury rate remained unchanged at 3.5 per 100,000 full-time equivalent (FTE) workers.
Fatalities by type of incident
Data show work injuries involving transportation incidents – the majority of which were roadway collisions with another vehicle – remained the most common fatal event in 2018, accounting for 40 percent of work-related deaths. This did not change from 2017.
Increases were found in the following areas:
Contact with objects and equipment – up 13 percent, driven by a 39 percent increase in workers caught in running equipment or machinery and a 17 percent increase in workers struck by falling objects or equipment.
Unintentional overdoses due to nonmedical use of drugs or alcohol while at work – up 12 percent, which is the sixth consecutive annual increase.
Violence and other injuries by persons or animals – up 3 percent, due to an 11 percent increase in work-related suicides.
Fatal falls, slip, and trips decreased 11 percent. The decline was due to a 14 percent drop in falls to a lower level, the lowest since 2013.
Fatalities by occupation
Driver/sales workers and truck drivers had the most fatalities of any broad occupation group, while among all detailed occupations, heavy and tractor-trailer drivers had the most fatalities.
Logging workers, fishers and related fishing workers, aircraft pilots and flight engineers, and roofers all had fatality rates more than 10 times the all-worker rate of 3.5 fatalities per 100,000 FTE workers.
Police and sheriff's patrol officer fatalities were up 14 percent.
Independent workers
The BLS describes independent workers as "involved in a work relationship that is finite and involves a single task, short-term contract, or freelance work." The data show an increase in fatal injuries to Independent workers, from 613 in 2017 to 621 in 2018.
Occupations with the most fatal work injuries to independent workers in 2018 were heavy and tractor trailer-truck drivers, followed by first-line supervisors of construction trades and extraction workers, and construction laborers.
This article was written by Rachel Krubsack of J. J. Keller & Associates, Inc.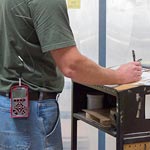 Looking for more on workplace safety?
Get the information and products you need to stay on top of industry changes and comply with regs.