Got FMLA resolutions?
Posted December 20, 2018
The end of the year is usually a time for reflection on what worked this past year, and what could use some improvement in the new year. Here are some ideas to consider for your New Year FMLA resolutions (it's OK to admit you have some):
Review your company's FMLA policy (if you have one) to ensure it still meets the company's needs and culture.
Craft an FMLA policy if you don't have one.
Review related policies (PTO, vacation, call-in procedures, etc.) to ensure they comport with what your FMLA policy indicates.
Hold employees to your call-in policy/procedures.
Train managers and supervisors – new training or refresher, particularly on recognizing when an employee puts the company on notice of the need for leave and how to respond.
Perform an FMLA self-audit.
Take in an FMLA webcast to help hone your skills.
Train a backup in case you need time away from work (assuming you're the lone leave administrator).
Make sure your FMLA poster can be seen by employees and applicants.
Keep the definition of a serious health condition at close hand (we can help with that).
Make sure employees meet eligibility criteria before designating leave as FMLA leave (cheat sheet?).
Review suspicious intermittent leave for patterns that might indicate abuse.
Recertify an employee's leave when allowed and called for.
Don't ask for a certification for each instance of intermittent or reduced schedule leave.
Purge any FMLA records that are not involved in a dispute and are older than three years.
Make sure you have and keep FMLA records for at least three years.
Ensure any medical information is kept confidential and separate from the general personnel file, whether electronic or hard copy (make sure supervisors and managers do the same).
Consider your potential obligations under the Americans with Disabilities Act if an employee is on leave for his or her own serious health condition.
Identify the salaried highest paid 10 percent of your employees — to be ready in case one of these "key" employees take leave.
Consider training all employees on their responsibilities regarding FMLA leave so they know what to expect and what the law does not cover.
Your particular situation could dictate which ones of these (or others) might be worthy of greater attention. While this list could seem rather long, at least the federal government is making no moves to change the law, so it does not include learning new provisions. Watch out, however, for state changes, which can garner their own set of challenges.
This article was written by Darlene M. Clabault, SHRM-CP, PHR, CLMS, of J. J. Keller & Associates, Inc.
---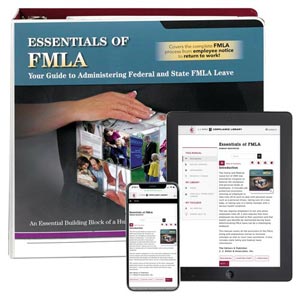 J. J. Keller's Essentials of FMLA manual helps HR pros understand and comply with the FMLA rules, control costs related to leave taken, and minimize the law's potential disruption to their organizations' operations.
---
J. J. Keller's FREE HRClicks™ email newsletter brings quick-read workplace safety and compliance news right to your email box.