FMCSA taking steps toward under-21 military driver program
Posted December 3, 2018
The Federal Motor Carrier Safety Administration (FMCSA) is accepting public comments regarding the potential launch of a pilot program to allow 18- to 21-year-olds with military driving experience to operate commercial motor vehicles (CMVs) in interstate commerce.
FMCSA plans to institute a three-year pilot program that will study the performance data of the entry-level drivers with military truck driving experience in areas such as crashes, moving and inspection violations, and safety-critical events.
The data collection plan calls for 50 motor carriers to be active in the pilot program. Each carrier will identify and employ at least one covered group driver in addition to intrastate drivers and control group drivers. Carriers will report safety data to FMCSA.
A notice about the pilot program was published in the Federal Register on November 27, 2018. Comments must be sent by December 28, 2018, referencing Federal Docket Management System docket number FMCSA-2017-0196. Comments can be sent by email to oira_submission@omb.eob.gov.
---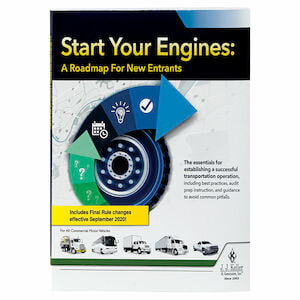 J. J. Keller's Start Your Engines: A Roadmap for New Entrants Manual provides the perfect resource to assist new entrants on their road to permanent registration.
---
J. J. Keller's FREE Transportation SafetyClicks™ email newsletter brings quick-read safety and compliance news right to your email box.