Census of fatal workplace injuries shows slight decrease from previous year
Posted December 19, 2018
A total of 5,147 people lost their lives at work in 2017, according to the Census of Fatal Occupational Injuries (CFOI), which was released by the Bureau of Labor Statistics (BLS) on December 18. The fatal injury rate decreased to 3.5 per 100,000 full-time equivalent workers from 3.6 in 2016.
Workplace deaths by type of incident
The BLS reports that work injuries involving transportation incidents remained the most common fatal event in 2017, accounting for 40 percent of work-related deaths. Fatal falls were at their highest level in the 26-year history of the CFOI, accounting for 17 percent of worker deaths.
In addition, deaths from exposure to harmful substances or environments rose 2.5 percent, and deaths from fires and explosions rose over 39 percent.
The BLS breaks down the data further, showing:
Violence and other injuries by people or animals decreased 7 percent in 2017. Homicides decreased by 42 cases to 458 in 2017, and workplace suicides decreased by 16 cases to 275.
Unintentional overdoses due to non-medical use of drugs or alcohol while at work increased 25 percent from 217 in 2016 to 272 in 2017. This was the fifth consecutive year in which unintentional workplace overdose deaths have increased by at least 25 percent.
Contact with objects and equipment incidents were down 9 percent in 2017 and caught in running equipment or machinery deaths were down 26 percent. Crane-related workplace fatalities fell to their lowest level ever recorded in the CFOI, with 33 deaths in 2017.
Fatal occupational injuries involving confined spaces rose 15 percent to 166 cases in 2017, from 144 in 2016.
Within the occupational subgroup driver/sales workers and truck drivers, heavy and tractor-trailer truck drivers had the largest number of fatal occupational injuries with 840. This represented the highest value for heavy and tractor-trailer truck drivers since the occupational series began in 2003.
The Census of Fatal Occupational Injuries
The CFOI, part of the BLS Occupational Safety and Health Statistics program, compiles a count of all work-related deaths that occur in the U.S. each calendar year. The CFOI program uses state, federal, and independent data to identify, verify, and describe fatal work injuries. For the 2017 data, the BLS says it reviewed over 23,400 unique source documents.
---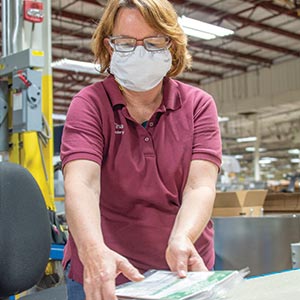 The J. J. Keller® OSHA Compliance Program provides you with a dedicated consultant who will identify your company's OSHA risks.
---
J. J. Keller's FREE Workplace SafetyClicks™ email newsletter brings quick-read workplace safety and compliance news right to your email box.