Pruitt signs final rule setting e-Manifest system fees
Posted December 22, 2017
On December 20, EPA head Scott Pruitt signed the final rule establishing user fees for the e-Manifest system. The e-Manifest User Fee Rule is the last item on the to-do list before EPA can get the actual hazardous waste e-Manifest system up and running.
Hazardous waste manifests are required whenever hazardous waste is shipped from a generator's site to its final disposal destination. EPA has been working to modernize the paper-based manifest system for years. In 2012, Congress authorized the Agency to implement the national electronic system with the Hazardous Waste Electronic Manifest Establishment Act.
The Act required EPA to set up a way to collect fees from hazardous waste manifest users and to recover the costs of developing, operating, and upgrading a national e-Manifest system. The rule also addresses the costs of collecting and processing data from any paper manifests submitted to the e-Manifest system after the system start date, which is projected to be June 30, 2018.
Key issues addressed in the final rule include:
Who must pay e-Manifest user fees;
What types of transactions give rise to fees;
What formula EPA is using to set fees;
What the available options are for users to make their fee payments;
What process EPA will follow to revise user fees; and
What the sanctions are for non-payment.
What are the fees?
EPA notes that it does not have a final budget for the program for Fiscal Year 2018, nor does it have all the contracts in place for setting up and hosting the system, or for running the paper processing center. Therefore, the following table of fee estimates should be considered as rough approximations of the final fees. EPA plans to publish a final two-year schedule of user fees on the e-Manifest website when more information on the budget and contracts awards becomes available.
Year 1 marginal cost manifest estimated fees by manifest type
Manifest submission type
Year 1 fee (estimated)
Paper manifests
Mailed paper
$20.00
Image uploads
$13.00
Data file uploads
$7.00
Electronic manifests (includes hybrid)
Electronic
$4.00
---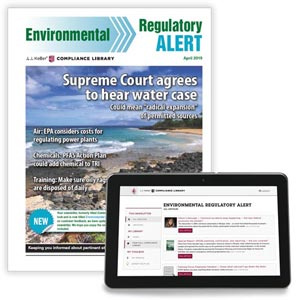 J. J. Keller's Environmental Alert: The Compliance Guide for Safety Professionals helps you stay on top of the latest environmental enforcement issues.
---
J. J. Keller's FREE Workplace SafetyClicks™ email newsletter brings quick-read workplace safety and compliance news right to your email box.