Court gives EPA 90 days to update dust-lead standards
Posted December 29, 2017
In an opinion issued December 27, 2017, the U.S. Circuit Court of Appeals for the 9th Circuit gave EPA 90 days to act on a rulemaking petition it had granted years ago concerning dust-lead hazard and lead-paint standards.
The three-judge panel granted a petition for writ of mandamus, a relatively rare mandate that compels EPA to act.
The panel told EPA that the Agency was under a duty stemming from the Toxic Substances Control Act (TSCA) and the Residential Lead-Based Paint Hazard Reduction Act of 1992 to update lead-based paint and dust-lead hazards standards in light of "obvious need."
The court ordered EPA to:
Issue a proposed rule within 90 days;
Promulgate the final rule within one year after issuing the proposed rule.
Further, the court said EPA would not be able to modify the deadlines for either the proposed rule or the final rule unless it could present new information showing the modification was required.
Lead is more dangerous to children than previously thought
Evidence presented to the court shows the hazards of lead paint in home environments have been found to be more dangerous to children's health than when EPA developed the lead-based paint standards in the 1990s. EPA did not challenge the science, but argued that its only duty under the statute was to begin a rulemaking proceeding, not that it has a responsibility to make any decisions within a reasonable time frame, or ever.
EPA finalized the lead-based paint rules in 2001, when the safe blood lead level in children was believed to be 10 micrograms per deciliter. However, in 2007, EPA's Clean Air Scientific Advisory Committee told EPA that the dust-lead hazards standards were "insufficiently protective of children's health." And in 2012, the Centers for Disease Control and Prevention (CDC) announced there is no known safe blood lead level. The CDC determined that 5 micrograms per deciliter should trigger a public health response.
EPA says it "might be ready" to issue a rule in six to eight years
In 2009, public health groups petitioned EPA to toughen its standards. The Agency granted that request for a rulemaking, but has not taken steps to propose a rulemaking since that time. In 2016, the groups filed the mandamus petition with the 9th Circuit Court of Appeals, asking the court to compel EPA to act. EPA responded that is has been working diligently behind the scenes and estimated it "might be ready" to issue a proposed rule by 2021, with a final rule in 2023.
The panel found this delay in the rulemaking to be unreasonable, saying, "EPA fails to identify a single case where a court has upheld an eight-year delay as reasonable, let alone a fourteen-year delay, if we take into account the six more years EPA asserts it needs to take action."
---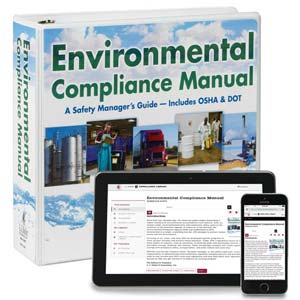 J. J. Keller's Environmental Compliance Manual covers environmental issues plus EPA, OSHA & DOT compliance info.
---
J. J. Keller's FREE Workplace SafetyClicks™ email newsletter brings quick-read workplace safety and compliance news right to your email box.