Upsurge in older drivers on the road, new data show
Posted December 7, 2015
The U.S. Department of Transportation's Federal Highway Administration (FHWA) published new data on December 2, that show a record-high 214.3 million licensed drivers in the U.S., including 95.9 million aged 50 or older in 2014. This is an increase of 2.4 million over the previous year. These new figures support U.S. Transportation Secretary Anthony Foxx's "Beyond Traffic," a 30-year framework for future transportation, which predicts a 77-percent increase among drivers over age 65 by 2045.
The data collected from all 50 states and Washington, D.C., show there were 214.3 million licensed drivers in 2014. People aged 85 or older increased by 2.9 percent since the previous year, remaining the nation's fastest growing demographic group among licensed drivers.
FHWA researchers have pioneered a variety of safety enhancements for America's roads — such as cutting-edge retroreflective laminates which make highway signs brighter and more visible from greater distances — to address the needs of older drivers, which range from declining vision to decreased flexibility and psychomotor performance, and changes in perceptual and cognitive performance.
At 63.6 million, drivers between the ages of 20-34 — generally known as "millennials" — account for nearly one in three drivers on U.S. roads. Teenage drivers fell slightly, from 8.9 million in 2013 to 8.4 million in 2014.
Published in FHWA's "Highway Statistics," an annual compilation of information about drivers, vehicles and roads, the data reflect the growing demands on the U.S. highway system and informs decisions by transportation policy makers, researchers and academia.
Extra information on how the FHWA designs roads for older drivers can be found in the "Handbook for Designing Roadways for the Aging Population," available at safety.fhwa.dot.gov/older_users/handbook.
---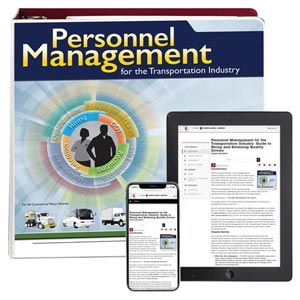 J. J. Keller's Personnel Management for the Transportation Industry provides transportation professionals with the information necessary for effective people/driver management.
---
J. J. Keller's FREE Transportation SafetyClicks™ email newsletter brings quick-read safety and compliance news right to your email box.
Sign up to receive Transportation SafetyClicks™.