USCIS seeks comments on proposed changes to Form I-9
Posted December 3, 2015
The U.S. Citizenship and Immigration Services (USCIS) published a notice in the Federal Register on November 24, 2015, to inform the public of proposed changes to Form I-9, Employment Eligibility Verification. The public may provide comments on the proposed changes for 60 days, until January 25, 2016.
Many of the proposed changes to Form I-9 are intended to help reduce technical errors and help customers complete the form on their computer after they have downloaded it from uscis.gov. For instance, the form:
Checks certain fields to ensure information is entered correctly;
Provides additional spaces to enter multiple preparers and translators;
Includes drop-down lists and calendars;
Provides instructions on the screen that users can access to complete each field;
Includes buttons that will allow users to access the instructions electronically, print the form and clear the form to start over;
Provides a dedicated area to enter additional information that employers are currently required to notate in the margins of the form; and
Will generate a quick-response matrix barcode, or QR code, once the form is printed and can be used to streamline audit processes.
Other proposed changes include:
Requiring employees to provide only other last names used in Section 1, rather than all other names used;
Streamlining the certification in Section 1 for certain foreign nationals; and
Separating the instructions from the form to bring the form in line with USCIS' practices.
To view the proposed form and instructions, go to the Form I-9 notice at www.regulations.gov. To submit a comment, enter USCIS-2006-0068 in the search box and click the "Comment Now!" button. After completing all the necessary fields, click "Submit Comment."
After the 60-day period ends, USCIS may make changes to the form based on comments received and will publish a second notice in the Federal Register. The public will have an additional 30 days to provide comments on proposed changes. USCIS will notify the public about these comment periods on I-9 Central.
Employers must continue to use the current version of Form I-9 until the Office of Management and Budget approves the proposed version and USCIS posts it on I-9 Central.
---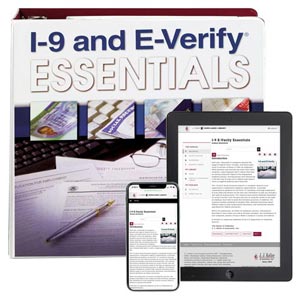 J. J. Keller's I-9 and E-Verify Essentials Manual helps you avoid I-9 errors and costly penalties related to the employment authorization process.
---
J. J. Keller's FREE HRClicks™ email newsletter brings quick-read human resources-related news right to your email inbox.