J. J. Keller® ELD Solution Will Be Compliant with New Rules
Posted December 10, 2015
After review of the FMCSA rule that mandates the use of electronic logging devices (ELDs) by December of 2017, J. J. Keller has announced that their E-Log solution will require only minor software updates to comply with the new rule.
"We are pleased to see that FMCSA has expressly allowed the use of mobile devices for E-Logging, which J. J. Keller views as critical to providing a low-cost and flexible option," said J. J. Keller's Executive Vice President & COO, Rustin Keller. "We believe we can adjust to the rule with software updates alone and our current ELD will not need any hardware changes. This will allow our customers to use the equipment they have, with no costly swap outs."
The J. J. Keller® Encompass® E-Log system is compatible with iPhone®, iPad® and Android™ smart devices, allowing fleets an affordable bring-your-own-device option. With the J. J. Keller Mobile® E-Log app installed, the driver's smart device communicates via Bluetooth® with the J. J. Keller® ELD. Fleets can also choose to use the J. J. Keller® Compliance Tablet™ that has a dedicated E-Log app.
---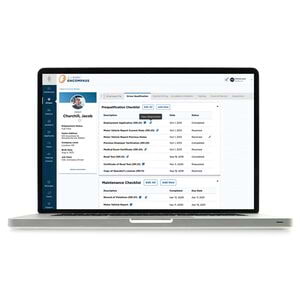 J. J. Keller® E-Logs - Compatible with iPad®, iPhone® and Android™ mobile devices. Affordable, flexible options from the nation's most respected transportation solutions provider.
---
J. J. Keller's FREE Transportation SafetyClicks™ email newsletter brings quick-read safety and compliance news right to your email box.
Sign up to receive Transportation SafetyClicks™.