FMCSA seeking comments on voluntary safety compliance
Posted December 28, 2015
The Federal Motor Carrier Safety Administration (FMCSA) will be holding two public listening sessions, on January 12 and 31, 2016, to solicit information on the potential benefits and feasibility of voluntary compliance and ways to credit carriers and drivers who initiate and establish programs that promote safety beyond the standards established in FMCSA regulations.
The recently enacted Fixing America's Surface Transportation (FAST) Act mandates that the FMCSA Administrator allow for a motor carrier that installs advanced safety equipment, enhanced driver fitness measures, fleet safety management tools, technologies, and programs and other standards for use by motor carriers to receive recognition, including credit or an improved Safety Measurement System (SMS) percentile.
FMCSA would like to know the views of the public on the concept, with any data or analysis to support it, with regard to three basic areas:
What voluntary technologies or safety program best practices would be appropriate for beyond compliance;
What type of incentives would encourage motor carriers to invest in technologies and best practices programs; and
How FMCSA would verify that the voluntary technologies or safety programs are being implemented.
The listening sessions are intended to provide interested parties with an opportunity to share their views with agency representatives, along with any data or analysis they may have. All comments will be transcribed and placed in the docket for FMCSA's consideration.
The meetings will be held on Tuesday, January 12, 2016, from 9:30 a.m. to 11:30 a.m. and 2:30 p.m. to 4:30 p.m., Local Time, and on Sunday, January 31, 2016, from 2:00 p.m. to 4:00 p.m., Local Time. If all interested parties have had the opportunity to comment, the sessions may conclude early.
The January 12 listening session will be held at the Kentucky International Convention Center, Room 108, 221 Fourth St., Louisville, KY 40202. The January 31 session will be held at the Georgia World Congress Center, Building C, 285 Andrew Young International Blvd NW, Atlanta, GA.
The entire proceedings of both meetings will also be webcast. FMCSA will post specific information on how to participate via the Internet on the FMCSA website at www.fmcsa.dot.gov in advance of the listening session.
In addition to attending the session in person, interested parties may submit comments identified by Docket Number FMCSA-2015-0124 using the Federal eRulemaking Portal at www.regulations.gov.
---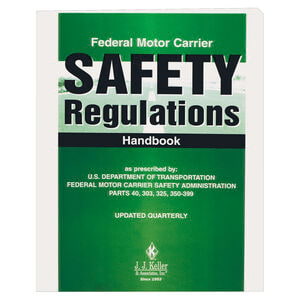 J. J. Keller's Federal Motor Carrier Safety Regulations Handbook includes Parts 303, 325, 350-399, and 40 of the FMCSRs, with interpretations inserted immediately following the regulation .
---
J. J. Keller's FREE Transportation SafetyClicks™ email newsletter brings quick-read safety and compliance news right to your email box.
Sign up to receive Transportation SafetyClicks™.