The new year means new posters to comply with mandatory state posting changes
Posted November 1, 2021
Over 20 states will begin 2022 with labor law posting changes, requiring businesses to display updated labor law posters. In addition, in some cases, states have been catching up with new posters to reflect regulatory changes that took effect in late 2021.
Watch for revisions to these state posters in early 2022:
Alaska: Minimum Wage
Arizona: Minimum Wage
Colorado: Minimum Wage
Delaware: Minimum Wage, Discrimination
Illinois: Employment Laws (Equal Pay)
Louisiana: Pregnancy Accommodation, Earned Income Credit
Maine: Minimum Wage, Regulation of Employment
Maryland: Minimum Wage, Employee Discrimination, Pregnant & Working
Michigan: Minimum Wage
Minnesota: Minimum Wage
Montana: Minimum Wage
New Hampshire: Paid Family Leave
New Mexico: Minimum Wage
New Jersey: Wage & Hour Law Abstract, Employee Misclassification
New York: Minimum Wage (effective December 31, 2021)
Ohio: Minimum Wage
Oregon: Paid Family Leave
Rhode Island: Minimum Wage
South Dakota: Minimum Wage
Vermont: Minimum Wage
Virginia: Minimum Wage; Occupational Safety and Health Act
Washington: Minimum Wage
Also, make sure your posters are updated with these changes that took place late in 2021:
District of Columbia: Paid Family Leave
Kentucky: Job Safety & Health
Florida: Minimum Wage
Nevada: Assembly Bill 307
When a mandatory posting change occurs, employers remove the old version of the poster and replace it with the new one. The 2022 changes shown above are expected to be released around January 1 so employers in these states should prepare to update their posters.
This article was written by Terri Dougherty of J. J. Keller & Associates, Inc.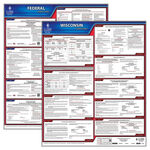 Looking for more on labor law postings?
Get the information and products you need to stay on top of poster changes and comply with regs.