Study: Over half of noise-exposed workers don't use hearing protection
Posted November 24, 2021
A new NIOSH study estimates that over half of noise-exposed workers do not use hearing protection when exposed to noise on the job. While non-use varied by industry and occupation, it was highest among women, young workers (aged 18-25), and current smokers. Hearing protection device (HPD) non-use was only measured in workers who reported exposure to noise on the job.
The study looked at 39,508 adult current workers from the 2007 and 2014 National Health Interview Surveys. The surveys asked participants about their HPD use and occupational noise exposure within the past year. Industries with the highest non-use among exposed workers included accommodation/food services, healthcare/social assistance, and education services.
Authors of the study recommend increasing worker awareness and providing training about the importance of proper and consistent use of HPDs, and ensuring workers have comfortable HPDs that do not overprotect from noise so they can hear speech and workplace signals.
This article was written by Rachel Krubsack of J. J. Keller & Associates, Inc.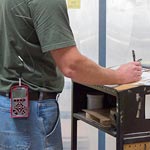 Looking for more on workplace safety?
Get the information and products you need to stay on top of industry changes and comply with regs.