OSHA's COVID-19 vaccine mandate may appear as early as next week
Posted November 1, 2021
Much speculation surrounds OSHA's upcoming COVID-19 vaccine mandate. Here's what we know to date:
The last stakeholder meeting is scheduled for the afternoon of October 29 with the Office of Management and Budget (OMB). If that holds, we could see the emergency temporary standard (ETS) next week.
Coinciding with this rule is the Build Back Better funding bill, which seems to be close to agreement in Congress – that would raise OSHA penalties fivefold. In other words, a serious violation for failure to vaccinate/test under the ETS (assuming it's published) could be $50,000, rather than the current $13,653. Willful violations could go up to $700,000.
The ETS has an expiration date of six months but also serves as a proposed rule during that time. At the end of that period, OSHA must determine whether to make it permanent, and, if so, it goes through the normal process for making a standard permanent.
States will be a little delayed in their adoption of the ETS, though OSHA is pushing heavily on this. The agency initiated proceedings against South Carolina to revoke their state plan status because they failed to adopt the ETS for healthcare.
While the ETS is known as the "vaccine" mandate, it likely will allow for weekly testing as an alternative.
This article was written by Rachel Krubsack of J. J. Keller & Associates, Inc.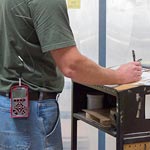 Looking for more on workplace safety?
Get the information and products you need to stay on top of industry changes and comply with regs.