Which state posters are changing in 2021?
Posted November 23, 2020
The New Year begins with new posters in 18 states in 2021, as minimum wage increases drive the majority of the changes.
Many states have passed laws that include regular minimum wage increases. These increases often require a revised poster to be displayed on New Year's Day.
In addition, other state postings relating to paid leave or tax information are also due for an update.
Here's a look at the expected January posting changes:
Alaska — Minimum Wage
Arizona — Minimum Wage
California — Minimum Wage, CFRA
Colorado — Overtime & Minimum Pay Standards; Paid Leave
Florida — Minimum Wage
Louisiana — Earned Income Credit
Maine — Minimum Wage; Regulation of Employment
Minnesota — Minimum Wage
Missouri — Minimum Wage
Montana — Minimum Wage
New Mexico — Minimum Wage
New Jersey — Minimum Wage
New York — Minimum Wage (December 31)
Ohio — Minimum Wage
South Dakota — Minimum Wage
Vermont — Minimum Wage
Virginia — Earned Income Credit
Washington — Minimum Wage; Your Rights as a Worker
All changes listed are mandatory except for the minimum wage posters in South Dakota, Montana, and Washington. These states make updated minimum wage posters available, but employers are not required to post them. It's still a good idea to make employees aware of the latest rate, however.
Additional details on posting changes are in the Recent and Potential Changes Report from J. J. Keller & Associates, Inc.
This article was written by Terri Dougherty of J. J. Keller & Associates, Inc.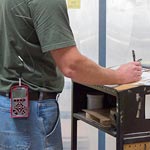 Looking for more on workplace safety?
Get the information and products you need to stay on top of industry changes and comply with regs.