Under rule changes, pesticide application exclusion zones only apply on the farm
Posted November 5, 2020
EPA has finalized significant changes to a part of the agricultural Worker Protection Standard (WPS) known as the pesticide application exclusion zone (AEZ). In 2015, EPA revised the WPS to keep all people, and especially agricultural workers, out of the AEZ, which is an area where pesticide exposures could occur during outdoor production pesticide application. The AEZ was 25 feet in all directions for ground pesticide applications when sprayed from a height greater than 12 inches, and 100 feet in all directions for outdoor aerial, air blast, air-propelled, fumigant, smoke, mist, and fog pesticide applications.
However, EPA received pushback from state regulators and farm owners on the difficulties of applying and complying with the complex AEZ requirements.
In response, EPA made changes to the AEZ requirements in the WPS to include:
AEZ requirements only apply within the boundaries of the agricultural establishment, removing off-farm responsibilities that were difficult for state regulators to enforce.
Immediate family members of farm owners are now exempted from all aspects of the AEZ requirements. Farm owners and their immediate family are now able to shelter in place inside closed buildings, giving farm owners and immediate family members flexibility to decide whether to stay on-site during pesticide applications, rather than compelling them to leave even when they feel safe remaining.
New clarifying language has been added so that pesticide applications that are suspended due to individuals entering an AEZ may be resumed after those individuals have left the AEZ.
Simplified criteria to determine whether pesticide applications are subject to the 25- or 100-foot AEZ.
A part of the rule known as the "Do Not Contact" provision did not change. This provision prohibits a handler/applicator and the handler's employer from applying a pesticide in such a way that it contacts workers or other persons directly or through drift.
The changes take effect on December 29, 2020.
This article was written by Lisa Neuberger of J. J. Keller & Associates, Inc.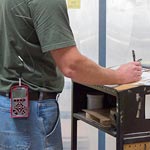 Looking for more on workplace safety?
Get the information and products you need to stay on top of industry changes and comply with regs.