Paying employees for travel, training time – DOL provides guidance
Posted November 11, 2020
On November 3, the U.S. Department of Labor (DOL) announced two opinion letters that addressed compliance issues related what counts as paid work time under the Fair Labor Standards Act (FLSA).
The two opinion letters featured different compensation situations as recapped here:
Voluntary training programs (FLSA2020-15): This letter addressed whether employees must be paid for time spent attending voluntary training programs. The company in question was a nonprofit hospice care provider with a variety of employees who take continuing education courses — some required for licensing, some not. In the letter, the company presented six different situations in which they sought guidance on whether the employees must be paid for their training time. The DOL's answers varied depending on all the circumstances described in the letter. Generally, however, the FLSA states that attendance at lectures, meetings, training programs, and similar activities does not need to be counted as working time if: it is outside normal hours, it is voluntary, the training is not job related, and no other work is performed.
Travel time of nonexempt workers (FLSA2020-16): This letter addressed whether employees had to be paid for travel time in three different situations involving construction sites located away from the employer's principal place of business (both local and remote). It also addressed commuting time. In the letter, a construction company had laborers and foremen (all nonexempt from overtime pay). The DOL's answers varied depending on all the circumstances described in the letter. For example, the foremen's travel time between the employer's principal place of business and the job sites was compensable in each scenario presented in the letter. However, ordinary home-to-work commuting time was not compensable. The laborers' travel time to and from a local job site was normal commuting time and need not be paid. When laborers were away from home overnight, travel from the hotel to the job site was also considered normal commuting time and didn't need to be paid. If, however, the laborers' travel time cut across their normal work hours, even on a nonwork day, their time was typically compensable.
Although the DOL's responses in each letter are case-specific, the answers can provide other employers with general guidance when it comes to complying with the FLSA.
What is an opinion letter?
An opinion letter is an official, written opinion by the DOL's Wage and Hour Division (WHD), which enforces laws, such as the FLSA. These letters explain how a particular law applies in specific circumstances presented by a person or an entity (such as a business or an employer) that requested the letter. The public may submit requests for opinion letters to WHD to obtain an opinion or to determine whether existing guidance already addresses their questions. The WHD uses its discretion in determining whether and how to respond to each request. With these recent two letters, the WHD has issued 67 opinion letters since January 20, 2017.
This article was written by Michelle Higgins of J. J. Keller & Associates, Inc.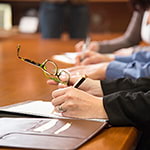 Looking for more on HR compliance?
Get the information and products you need to stay on top of industry changes and comply with regs.