Oregon OSHA adopts temporary COVID-19 rule for all workplaces
Posted November 11, 2020
Oregon OSHA has adopted a temporary rule requiring all employers to carry out risk-reducing measures to help prevent the spread of COVID-19 in the workplace. The rule takes effect November 16, with certain parts phased in, and is expected to remain in effect until May 4, 2021.
The rule is a continuation of the guidance produced by the Oregon Health Authority and enforced in the workplace by Oregon OSHA, including physical distancing, use of face coverings, and sanitation. It includes an appendix that contains provisions for specific industries and workplace activities, with more measures for exceptionally high-risk jobs.
The rule includes requirements for:
Physical distancing;
Masks, face covering, or face shields;
Ventilation;
Exposure risk assessment;
Infection control plan;
Information and training; and
Notification, testing, and medical removal.
Oregon OSHA is developing educational resources to help employers and workers understand and apply the requirements.
This article was written by Rachel Krubsack of J. J. Keller & Associates, Inc.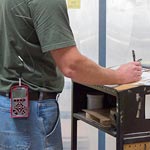 Looking for more on workplace safety?
Get the information and products you need to stay on top of industry changes and comply with regs.