MIOSHA allows COVID-19 inspections to be added to most types of inspections
Posted November 19, 2020
The Michigan Occupational Safety and Health Administration (MIOSHA) has issued an enforcement plan for its COVID-19 temporary standard that allows for COVID-19 inspections to be added to most types of inspections.
These inspections would be programmed partial inspections and unprogrammed partial inspections not related to COVID-19, such as non-COVID-19 complaint inspections, non-COVID-19 re-inspections, and non-COVID-19 follow-up inspections. COVID-19 would be covered because the hazard is in plain view, and MIOSHA requires the scope of a partial inspection to be expanded to address any potentially serious hazard in plain view or discovered during the inspection process. MIOSHA says its inspectors will be able to identify COVID-19 as a "plain view" hazard by looking at, for example, whether employees or customers are wearing face coverings, whether there are posted signs to ask sick individuals to not enter, and whether signs are posted to require health screening or face coverings.
MIOSHA says the enforcement plan is intended to effectively deal with large numbers of COVID-19 complaints and referrals, quickly address health hazards in the workplace, and protect the health of MIOSHA compliance officers who can be exposed when they do on-site inspections.
This article was written by Rachel Krubsack of J. J. Keller & Associates, Inc.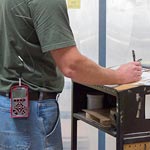 Looking for more on workplace safety?
Get the information and products you need to stay on top of industry changes and comply with regs.