It's official: Pay data reporting for EEO-1 sunsetting
Posted November 28, 2019
On November 22, the Equal Employment Opportunity Commission (EEOC) published a notice in the Federal Register that it will not request, accept, or use Component 2 (pay) data, as it does not expect to find significant utility in the data, given limited resources and its aggregated nature, but it will continue to receive EEO-1 Component 1 data. Two days earlier, the EEOC held a public hearing regarding proposed changes to the EEO-1 including "not seeking to renew Component 2 of EEO-1," which required employers with over 100 employees to report employee pay and hours worked information.
In the past, the EEOC has shared EEO-1 diversity data with the Office of Federal Contract Compliance Programs (OFCCP), which governs federal contractors. The reason for the sharing is "to avoid duplicative information collections and minimize the burden on employers." But the OFCCP now says the pay data isn't specific enough, though it still will accept the diversity information.
Nearly 90,000 employers subject to the EEO-1 component 2 data had until September 30 to submit pay and hours information. Some, however, did not.
On September 27, 2019, the EEOC announced it would keep the portal for employers to submit the information open indefinitely because it had reasons to believe the minimum required reporting percentage would not be met by the September 30, 2019, deadline. Last-minute filers helped bring that percentage up. Judge Chutkan, who ordered the EEOC to collect the pay data, directed the EEOC to "continue to take all steps necessary to complete the EEO-1 Component 2 data collection for calendar years 2017 and 2018 by January 31, 2020."
The EEOC is authorized, under Title VII of the Civil Rights Act, to require employers to make the EEO-1 report. Under the law, the EEOC can flex its muscle regarding the reports: "If any person required to comply with the provisions … fails or refuses to do so, the United States district court for the district in which such person is found, resides, or transacts business, shall, … have jurisdiction to issue to such person an order requiring him to comply."
Therefore, if any EEO-1 reporting employer has not yet submitted the pay data, it's not too late. You likely don't want the EEOC to come knocking on your door.
EEO-1 Component 1 data, with 2019 data submissions, are due in March 2020.
This article was written by Darlene M. Clabault, SHRM-CP, PHR, CLMS, of J. J. Keller & Associates, Inc.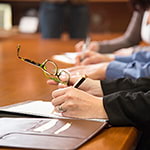 Looking for more on HR compliance?
Get the information and products you need to stay on top of industry changes and comply with regs.