FMCSA Drug and Alcohol Clearinghouse query plans now available for purchase
Posted November 11, 2019
Query plans are now available to purchase for employers of drivers requiring a commercial driver's license. The announcement comes two months before launch of the Federal Motor Carrier Safety Administration (FMCSA) Drug & Alcohol Clearinghouse on January 6, 2020.
Purchasing a query plan enables motor carriers and their designated consortia or third-party administrators to conduct queries for all current and potential new employees as required by §382.701.
Queries are electronic checks in the Clearinghouse used by carriers to learn if current or potentially future employees are prohibited from driving a commercial motor vehicle or performing other safety-sensitive functions due to an unresolved violation under Part 382.
The plans can only be purchased on the FMCSA Clearinghouse website by registered employers.
FMCSA will charge a flat fee of $1.25 for every limited or full query and offer bundles depending on need, though the bundles do not offer a discount per query. Discounts per query are available if carriers purchase an unlimited bundle plan for $24,500.
This article was written by Dave Lubach of J. J. Keller & Associates, Inc.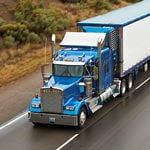 Looking for more on transportation safety?
Get the information and products you need to stay on top of industry changes and comply with regs.