Data show rise in fatal chemical inhalations in the workplace
Posted November 4, 2019
The most recent data from the Bureau of Labor Statistics (BLS) show a rise in fatal chemical inhalations in the workplace, from 34 fatalities in 2016 to 41 in 2017. From 2011 through 2017, data show the number varied between 33 and 55 fatal injuries each year, with a total of nearly 300 fatalities during the 7-year span.
Inhaling carbon monoxide led to the most fatalities (116 fatal injuries) during this time period followed by inhaling hydrogen sulfide (46 fatal injuries). Of the fatal single episode inhalations of chemicals and chemical products from 2011 through 2017, 37 percent or 110 fatal injuries, occurred in confined spaces.
OSHA defines a confined space as a space that is not necessarily designed for people but is large enough for workers to enter and perform certain jobs. It also has limited or restricted means for entry or exit and is not designed for continuous occupancy. Examples can be found across numerous industries and include tanks, vessels, storage bins, ductwork, and manholes.
Deaths in confined spaces often occur because the atmosphere is oxygen-deficient, toxic, or combustible. Confined spaces that contain or have the potential to contain a serious atmospheric hazard should be classified as permit-required confined spaces and should be tested prior to entry and continually monitored.
This article was written by Rachel Krubsack of J. J. Keller & Associates, Inc.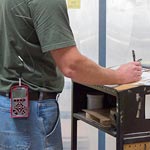 Looking for more on workplace safety?
Get the information and products you need to stay on top of industry changes and comply with regs.