Are large product heating, aging furnaces confined spaces? OSHA says yes
Posted November 28, 2019
In a recent Letter of Interpretation (LOI), OSHA addresses whether the definition of confined space applies to large product heating and aging furnaces. Such furnaces are used to heat product parts using natural gas to temperatures ranging from 700°F to 2200°F to facilitate material processing.
One of the requirements in the definition of confined space is that it must have a limited or restricted means of entry or exit. The LOI addresses questions on whether this applies to the furnaces.
OSHA says yes, based on the following:
Stepping into furnaces that are 22 to 29 inches above the building floor, which would require more than one step (9.5 inches) to climb up, may be considered restricted.
The furnaces' doors are actuated remotely, so an employee within this space cannot walk out of the space without restriction.
If some special means of access such as ladders, and temporary, movable, spiral, or articulated stairs are needed to enter the space, they may be considered a limited or restricted means of egress making the space confined under the standard.
General industry employers should follow the regulations at 1910.146 to determine their obligations regarding confined space work.
This article was written by Rachel Krubsack of J. J. Keller & Associates, Inc.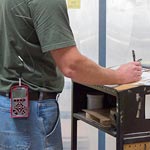 Looking for more on workplace safety?
Get the information and products you need to stay on top of industry changes and comply with regs.