Government publishes contraception coverage objection rules
Posted November 16, 2018
The U.S. Departments of Labor, Health and Human Services, and the Treasury published final rules in the November 15, 2018 Federal Register related to entities that sponsor group health plans, but have objections to covering contraception.
The two final rules provide conscience protections for entities who have a religious or moral objection to health insurance that covers contraception methods. Under the Affordable Care Act, employer-provided health insurance plans are required to cover certain "preventative services" — which were defined as including all contraception methods approved by the Food and Drug Administration, including methods viewed by many as abortifacients, and sterilization procedures.
In October 2017, the departments issued two interim final rules providing an exemption for those who had sincerely held religious or moral objections to such coverage, while seeking public comment on the rules.
The first of the final rules provides an exemption from the contraceptive coverage mandate to entities that object to services covered by the mandate based on sincerely held religious beliefs. The second final rule provides protections to nonprofit organizations and small businesses that have non-religious moral convictions opposing services covered by the mandate.
The religious and moral exemptions provided by these rules also apply to institutions of education, issuers, and individuals. The departments are not extending the moral exemption to publicly traded businesses, or either exemption to government entities.
More information:
The Affordable Care Act already exempts many people from the preventive services coverage mandate because the mandate does not apply to plans insured through grandfathered coverage that existed prior to the law.
The rules leave in place government programs that provide free or subsidized contraceptive coverage to low income women, such as through community health centers.
The rules do not ban any drugs or devices or prohibit any employer from covering contraceptives.
The departments estimate the exemptions should affect no more than approximately 200 employers with religious or moral objections.
The rules take effect January 14, 2019.
Opponents of the rule argue, in part, that it will have social effects stemming from more unintended pregnancies by limiting access to contraception. Proponents feel, in part, that the government does not have the right to force businesses to provide specific types of coverage.
Some state laws, however, require coverage for contraception.
This article was written by Darlene M. Clabault, SHRM-CP, PHR, CLMS, of J. J. Keller & Associates, Inc.
---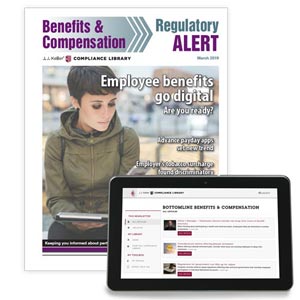 J. J. Keller's BottomLine Benefits & Compensation is an 8-page, monthly newsletter that addresses key issues relating to benefits and compensation programs.
---
J. J. Keller's FREE HRClicks™ email newsletter brings quick-read human resources-related news right to your email inbox.