You are not alone: Chicago agency identifies FMLA abuse
Posted November 16, 2017
If you ever thought you were the sole fish struggling in a sea of FMLA abuse, think again. The FMLA strives to find a balance between the needs of both employer and employee, but sometimes, that fine line can be moved to one side.
A recent Chicago agency investigation, for example, identified patterns suggestive of potential abuse of leave under the FMLA by employees. The investigation revealed that several employees followed patterns that raised the specter of abuse, including the frequent use of FMLA leave on Fridays and Saturdays, as well as around major holidays or sporting events. Does that sound at all familiar?
The investigation found that 49% of all agency employees had been designated as eligible to take intermittent FMLA leave, with that number increasing steadily over the last several years.
And we thought 20% was high.
A review of employee medical files revealed that a number of them were incomplete and did not contain all appropriate FMLA documentation. The investigation also revealed that the agency did not request second medical opinions, as permitted under certain circumstances by the FMLA.
Further, the investigation suggested that the nature of the agency's vacation scheduling procedures — under which employees were required to schedule vacation for an entire calendar year in advance — may have contributed to intermittent FMLA leave abuse. As a consequence, employees might not have been able to schedule time off when an unexpected need arose and could have been tempted to use FMLA leave as a stop-gap measure.
Suggested steps to curb the possible abuse of FMLA leave included the following:
Encourage front line supervisors, as appropriate and permissible, to elevate concerns about potential abuse through their chain of command and document any concerns raised this way.
Provide training to front line supervisors on what they are obligated and permitted to do under FMLA.
Review the files of employees designated for intermittent FMLA use for the completeness and timeliness of documentation. Seeking recertification where legally appropriate.
Require second medical opinions as allowed by law.
Review the system for scheduling vacation time.
While not a court case (the usual source of information on what not to do or what to do), this employer's FMLA (mis)adventures can help others find ways to help curb real or potential abuse. One of the more effective measures will likely be the training of supervisors, as they are in positions to really help the employer administer the absences.
The final word is that employers may take steps to help avoid or curtail real or potential FMLA leave abuse, and this situation outlines a handful of them.
---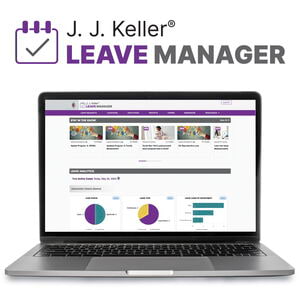 J. J. Keller® FMLA Manager™ Service makes leave tracking easier while complying with the latest federal & state regulations.
---
J. J. Keller's FREE HRClicks™ email newsletter brings quick-read human resources-related news right to your email inbox.