OSHA defends its Multi-Employer Citation Policy
Posted November 9, 2017
A brief filed in the U.S. Court of Appeals for the 5th Circuit shows that OSHA intends to defend its Multi-Employer Citation Policy. If you are a contractor who ever oversees another employer's workers, you'll want to pay attention to this case.
The case in question centers on OSHA's ability to cite more than one employer on what the Agency calls "multi-employer worksites." Under its long-held Multi-Employer Citation Policy (CPL 02-00-124), OSHA uses a two-step process to determine which employer to cite. Inspectors will determine:
Whether the employer is a "creating," "exposing," "correcting," or "controlling" employer.
If the employer's actions were sufficient to meet its obligations based on its classification under the policy.
At issue is an OSHA citation given to a construction contractor for a subcontractor's employees working in an unprotected excavation. OSHA claimed the contractor had sufficient control and authority over the jobsite, including over subcontractor's employees, to reasonably be expected to prevent and/or correct the violation. In addition, management employees were present at the excavation and could easily have prevented the subcontractor's employees from working in the unprotected area or ordered them to come out of the unprotected area.
In August, the contractor contested the citation before the Occupational Safety and Health Review Commission (OSHRC), and the Commission sympathized with OSHA's view. But because the violation occurred at a jobsite in Austin, TX, the U.S. Court of Appeals for the 5th Circuit had jurisdiction over the case. And that Court already had a ruling on the books saying OSHA could only cite an employer for putting its own employees at risk. Therefore, OSHRC had to rule against OSHA.
Which means OSHA now must defend its Multi-Employer Citation Policy before the 5th Circuit Court of Appeals. The brief filed on November 6 argues that the Texas court should revisit the earlier case and affirm OSHA's citation against the construction contractor.
---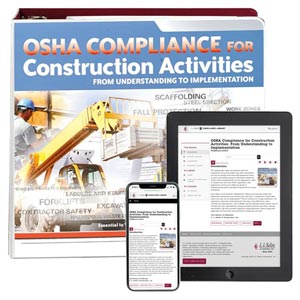 J. J. Keller's OSHA Compliance for Construction Activities Manual explains complex Part 1926 regs in easy-to-understand language.
---
J. J. Keller's FREE Workplace SafetyClicks™ email newsletter brings quick-read workplace safety and compliance news right to your email box.