EPA buys more time to rescind, revise prior administration's Clean Water Rule
Posted November 20, 2017
EPA and the U.S. Army are proposing to extend the effective date of the 2015 Clean Water Rule for two years. EPA says this action will give the agencies time to reconsider the definition of "waters of the United States."
The Obama Administration's Clean Water Rule redefined the scope of where the Clean Water Act applies and had an effective date of Aug. 28, 2015. The rule, which is currently before the Supreme Court, is on hold as a result of the Sixth Circuit's nationwide stay of the rule. A separate ruling in a North Dakota district court also placed the rule on hold for 13 states. Therefore, according to EPA and the Army, the action to delay the rule's effective date is necessary to provide certainty and consistency to the regulated community.
The agencies are reconsidering aspects of the Clean Water Rule in response to a Feb. 28, 2017, Presidential Executive Order on "Restoring the Rule of Law, Federalism, and Economic Growth by Reviewing the 'Waters of the United States' Rule." The order directed EPA and the Army to review the rule and begin the rulemaking process to revise or rescind it.
The new proposal is separate from the two-step process the agencies plan to take to reconsider the Clean Water Rule. Step 1, taken in July 2017, proposed to recodify the regulations that were in place prior to 2015. The comment period for Step 1 closed in September 2017. For Step 2, the agencies plan to propose a new definition for "waters of the United States" to reinterpret the jurisdictional bounds of the Clean Water Act.
Public comments will be accepted on the current proposal to extend the effective date for 21 days after publication in the Federal Register. The agencies plan to "move quickly to take final action" in early 2018.
Information on how to comment can be found on the EPA website.
---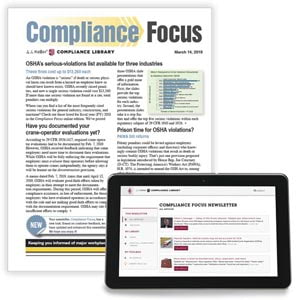 J. J. Keller's Compliance Focus helps you stay on top of critical regulatory developments from: DOT, OSHA, EPA, DOL, MSHA, EEOC, DHS and other agencies.
---
J. J. Keller's FREE Workplace SafetyClicks™ email newsletter brings quick-read workplace safety and compliance news right to your email box.