Anti-coercion rule slated for November publication, other rules delayed in DOT agenda
Posted November 18, 2015
A rule prohibiting the coercion of commercial motor vehicle (CMV) drivers will be delayed for three weeks, according to a recent report on significant DOT rulemakings.
The Federal Motor Carrier Safety Administration (FMCSA) now says the projected publication date for the final "Prohibition of Coercion" rule is November 23, 2015. The rule is expected to prohibit motor carriers, shippers, brokers, freight forwarders, and receivers from pressuring drivers into operating CMVs in violation of federal safety or hazardous materials regulations.
According to the rulemaking agenda, several proposed rulemakings are also facing delays, but they are expected to be published before the end of 2015:
| | | |
| --- | --- | --- |
| Proposed rule | Projected Publication date | The rule will... |
| Carrier Safety Fitness Determination | Delayed 3 weeks to 11/24/2015 | Change the way motor carriers are rated, relying more heavily on a carrier's on-road performance in place of in-house audits. |
| Heavy Vehicle Speed Limiters | Delayed 9 weeks to 12/3/2015 | Require the installation of speed limiting devices on heavy trucks. |
| Entry-Level Driver Training | Delayed 2 weeks to 12/28/2015 | Set new standards for the training of entry-level drivers. |
Additionally, an advanced notice of proposed rulemaking (ANPRM) concerning sleep apnea is scheduled to be sent to the White House for review on November 20, 2015.
Several rules projected for publication in 2016 have been delayed as well. The new dates are as follows:
| | | |
| --- | --- | --- |
| Rule | Projected Publication date | The rule will... |
| Drug & Alcohol Clearinghouse final rule | Delayed 4 weeks to 3/28/2016 | Establish an online clearinghouse of commercial drivers who have tested positive or refused a required drug or alcohol test, and will require motor carriers to query the clearinghouse before hiring drivers. |
| MAP-21 enhancements to UCR proposed rule | Delayed 5 weeks to 8/2/2016 | Adjust the registration fee for new interstate motor carriers, freight forwarders, brokers, intermodal equipment providers (IEPs), hazardous materials safety permit (HMSP) applicants, and cargo tank facilities under FMCSA jurisdiction that must register with the agency to operate in interstate commerce. |
| State Inspection Programs for Passenger Carrier Vehicles ANPRM | Delayed 3 weeks to 1/29/2016 | Require states to establish a program for annual inspections of commercial motor vehicles designed or used to transport passengers as required by the provision from section 32710 of the Moving Ahead for Progress in the 21st Century Act |
---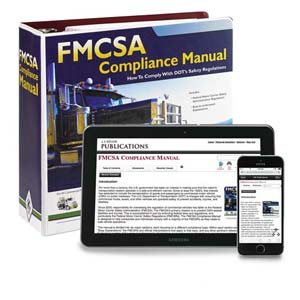 J. J. Keller's FMCSA Compliance Manual is the perfect resource for anyone managing or operating commercial motor vehicles (CMVs).
---
J. J. Keller's FREE Transportation SafetyClicks™ email newsletter brings quick-read safety and compliance news right to your email box.
Sign up to receive Transportation SafetyClicks™.