OSHA to publish heat injury and illness ANPRM
Posted October 29, 2021
OSHA's heat injury and illness advance notice of proposed rulemaking (ANPRM) is scheduled to be published in the Federal Register October 27. The agency is initiating rulemaking to protect indoor and outdoor workers from hazardous heat and is seeking additional information about the extent and nature of hazardous heat in the workplace and the nature and effectiveness of interventions and controls used to prevent heat-related injury and illness.
The ANPRM provides an overview of the problem of heat stress in the workplace and of measures that have been taken to prevent it. It also seeks information on issues that OSHA can consider in developing the standard, including the scope of the standard and the types of controls that might be required.
Comments will be accepted within 60 days of the ANPRM's publication in the Federal Register. Search for Docket No. OSHA-2021-0009 at regulations.gov and follow the instructions online for making electronic submissions.
This article was written by Rachel Krubsack of J. J. Keller & Associates, Inc.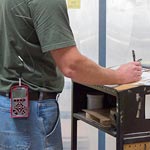 Looking for more on workplace safety?
Get the information and products you need to stay on top of industry changes and comply with regs.