OSHA Region VII targets manufacturing, service industries that use hazardous substances
Posted October 22, 2021
OSHA Region VII (Iowa, Nebraska, Kansas, and Missouri) has implemented a Regional Emphasis Program (REP) for programmed health inspections in manufacturing and service industries where employees are exposed to hazardous substances such as asbestos, benzene, beryllium, and cadmium.
The REP instruction document notes that occupational diseases often manifest themselves after a delay from the time of exposure (generally across a number of years), especially for chronic conditions. Therefore, relying on injury and illness data is not adequate to identify and target these hazards. Instead, historical data (sorted by NAICS code) will be used to identify industries in Region VII with a high number of health-related OSHA violations.
Area Offices will implement outreach programs at least three months prior to conducting inspections and enforcing the REP, which took effect October 1. Outreach efforts may include targeted presentations, letters to employers, news releases, use of social media, and more.
This article was written by Rachel Krubsack of J. J. Keller & Associates, Inc.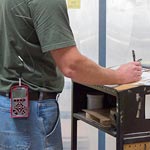 Looking for more on workplace safety?
Get the information and products you need to stay on top of industry changes and comply with regs.