NIOSH publishes updated version of lifting equation manual
Posted October 15, 2021
NIOSH recently published an updated version of its Revised NIOSH Lifting Equation (RNLE) Manual. The agency says the essential contents have not changed, rather graphics and tables have been improved, identified typographical errors have been corrected, and the document has been reformatted to be searchable.
NIOSH states that the most notable typographical correction replaces a recovery time factor of 1.2 which was used to determine the short duration lifting tasks (on pages 23 and 24 of the 1994 manual). The subsequently calculated recovery time on page 24 is corrected to 30 minutes from 36 minutes. The new recovery time factor of 1.0 and revised recovery time of 30 minutes are now used throughout the new version.
Additionally, alternative text for all figures and equations have been added in compliance of Section 508, which requires agencies to make their electronic information accessible to people with disabilities.
This article was written by Rachel Krubsack of J. J. Keller & Associates, Inc.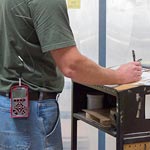 Looking for more on workplace safety?
Get the information and products you need to stay on top of industry changes and comply with regs.