OSHA updates FAQs for COVID-19-related reporting requirements
Posted October 2, 2020
OSHA posted two new frequently asked questions on its COVID-19 FAQ webpage to clear up confusion about when and how to report fatalities and in-patient hospitalizations related to COVID-19.
Work-related deaths due to COVID-19
The Agency says that work-related, confirmed deaths of COVID-19 are reportable to OSHA if they occur within 30 days of the work-related exposure to the SARS-CoV-2 virus. The employer must report the fatality to OSHA within eight hours of knowing both that the employee has died, and that the cause of death was a work-related case of COVID-19. In practical terms, if an employer learns that an employee died within 30 days of a work-related incident, and later determines the cause of death was a work-related case of COVID-19, the case must be reported to OSHA within eight hours of that determination.
Work-related hospitalizations due to COVID-19
In the same way, employers must report an in-patient hospitalization to OSHA if the hospitalization occurs within 24 hours of the work-related incident. For confirmed cases of COVID-19 that resulted from a work-related exposure to the SARS-CoV-2 virus, that means an employer would only have to report the case to OSHA if the employee was hospitalized within 24 hours of that exposure.
How to report a fatality or severe injury to OSHA
Employers may report a work-related fatality or an in-patient hospitalization, amputation or loss of an eye in one of the following ways:
Call the nearest OSHA office;
Call the OSHA 24-hour hotline (1-800-321-OSHA [6742]); or
By completing OSHA's online form.
Note that all employers are covered under the severe injury and fatality reporting requirements found in 29 CFR 1904.39, even employers who are not covered under the routine recordkeeping requirements of Part 1904.
This article was written by Rachel Krubsack of J. J. Keller & Associates, Inc.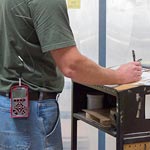 Looking for more on workplace safety?
Get the information and products you need to stay on top of industry changes and comply with regs.