OSHA confirms N95 respirators effectively protect against COVID-19 exposure
Posted October 20, 2020
In a newly published FAQ, OSHA confirms N95 respirators effectively protect wearers from COVID-19 exposure. If worn correctly, they will filter out at least 95 percent of very small (0.3 micron) particles from the air.
OSHA issued the FAQ to address false claims stating that N95s do not capture particles as small as the virus that causes COVID-19, which is approximately 0.1 microns in size. The FAQ describes how respirators work to filter particles and discusses the National Institute for Occupational Safety and Health's (NIOSH) testing process.
OSHA notes that employers and workers must remember that the respirator only provides the expected protection when used correctly. When respirators are required, they must be used as part of a comprehensive, written respiratory protection program that meets the requirements of OSHA's Respiratory Protection standard. The program should include medical evaluations, training, and fit testing.
This article was written by Rachel Krubsack of J. J. Keller & Associates, Inc.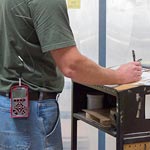 Looking for more on workplace safety?
Get the information and products you need to stay on top of industry changes and comply with regs.