OSHA announces over $480K in COVID-19 violations
Posted October 6, 2020
OSHA has cited nearly 40 establishments for COVID-19-related violations, with proposed penalties totaling $484,069, since the start of the pandemic. OSHA inspections have resulted in citations for failures to:
Implement a written respiratory protection program;
Provide a medical evaluation, respirator fit test, training on proper use of a respirator, and personal protective equipment (PPE);
Report an injury or illness on OSHA recordkeeping forms; and
Comply with the General Duty Clause of the Occupational Safety and Health (OSH) Act of 1970.
Employers may refer to OSHA's guidance documents detailing proactive measures that can be taken to protect employees from COVID-19, such as physical distancing measures and the use of physical barriers, face shields, and face coverings when employees are unable to physically distance at least 6 feet from each other. OSHA reminds employers that they also are required to maintain injury and illness logs.
This article was written by Rachel Krubsack of J. J. Keller & Associates, Inc.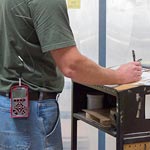 Looking for more on workplace safety?
Get the information and products you need to stay on top of industry changes and comply with regs.