New rule makes H-IB employees harder to hire
Posted October 15, 2020
On the heels of a regulation "Strengthening Wage Protections for the Temporary and Permanent Employment of Certain Aliens in the United States," on October 8, the DHS published the "Strengthening of the H-1B Nonimmigrant Visa Classification." The result of these rules will increase the challenge employers have in hiring qualified talent requiring specialized knowledge. The new rules could result in 1/3 of H-1B petitions being denied.
Over the past several years, H-1B visas have been increasingly harder to obtain. When employers complained, the U.S. Citizenship and Immigration Services (USCIS) backed down, but instead took a regulatory route to adopt the barriers. The latest rules do the following:
Revise the regulatory definition of and standards for a ''specialty occupation," focusing on the relationship between the required degree field(s) and the duties of the position, as opposed to any degree. Many specific degrees are, however, not yet available.
Add definitions for ''worksite'' and ''third-party worksite'';
Revise the definition of ''United States employer'' and removing the term "contractor";
Clarify how the USCIS will determine whether there is an ''employer-employee relationship'' between the petitioner and the beneficiary;
Require corroborating evidence of work in a specialty occupation;
Limit the validity period for third-party placement petitions to a maximum of 1 year, down from the current three-year period;
Provide a written explanation when the petition is approved with an earlier validity period end date than requested;
Amend the general itinerary provision to clarify it does not apply to H–1B petitions; and
Codify USCIS' H–1B site visit authority, including the potential consequences of refusing a site visit.
The changes, which become effective December 7, are said to be in response to the economic crisis caused by the COVID-19 public health emergency and the impact on the wages and working conditions of similarly employed U.S. workers.
The rules are interim final rules but interested parties may comment on them between November 9 and December, and the USCIS will need to review the comments. To submit a comment, go to www.regulations.gov, and look for DHS Docket No. USCIS-2020-0018.
A companion rule from the U.S. Department of Labor will also increase the wages required to be paid for H-1B visa employees as well as H-1B1, E-3 and PERM eligibility. Those changes became effective immediately.
Many expect the rules to be challenged, arguing they go too far.
This article was written by Darlene Clabault of J. J. Keller & Associates, Inc.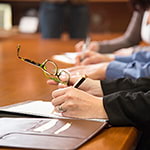 Looking for more on HR compliance?
Get the information and products you need to stay on top of industry changes and comply with regs.