FMLA and the case of the incomplete certification
Posted October 12, 2020
Obtaining a complete and sufficient certification can be a challenge in some situations. Employers have the right to request them in most situations, and employees need to comply with such a request. Failure to do so can jeopardize an employee's FMLA protections and, therefore, his or her job. Employers need to know how to handle such issues.
Case in point
In the spring one year, Effie was diagnosed with a condition that required her to take some intermittent time off. Her boss told her about the FMLA, and Effie applied for leave through the company's third party FMLA administrator (TPA).
For most of that year, Effie took FMLA leave and had no related problems, albeit a couple hiccups related to providing certification supporting an extension of leave. Otherwise, Effie continued to request and take intermittent leave.
Late that hear, not surprisingly, Effie again requested more leave. This time, however, the requested certification did not include the frequency of the leave. Effie was informed what information was missing and that she needed to provide it within seven days. Apparently, the TPA did not receive the missing information, so the leave was denied.
After a month or two, the TPA and the employer noticed that some of Effie's leave was not approved for FMLA due to incomplete certification. This meant that part of her leave was not job-protected and, therefore, Effie's employment was put on hold. Effie disputed the certification issue but couldn't prove her challenge.
Later that year, Effie was scheduled for surgery for her condition. She learned her employment had been terminated only when her surgeon's office contacted her in advance of the scheduled surgery to tell her that her health insurance had been cancelled.
Effie sued, arguing that she provided all the information the TPA had requested.
The court found that, because the employee bears the responsibility for complying with the certification requirements, and Effie did not produce evidence that she did comply, the employer generally won.
One of the reasons the employer won the argument was because it did what it had to do: when it received a certification that was incomplete, it informed Effie of what information was missing and gave her seven days to fix the problem.
In this type of situation, employers will often call the health care provider for the missing information. This is not, however, the time to make such contact. Generally, you are to return the certification to the employee with a written list of what is needed to make it complete and sufficient. The employee then has at least seven days to cure the deficiency.
This article was written by Darlene Clabault of J. J. Keller & Associates, Inc.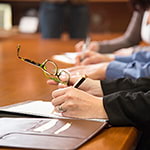 Looking for more on HR compliance?
Get the information and products you need to stay on top of industry changes and comply with regs.