Container securement is focus of new inspection bulletin
Posted October 8, 2020
The Commercial Vehicle Safety Alliance (CVSA) has issued a new inspection bulletin to help roadside enforcement personnel determine if a roll-on/roll-off, hook-lift, or lugger box/container is properly secured.
Both the U.S. and Canada have regulations for securing roll-on/roll-off and hook-lift containers on commercial trucks, but the rules lack important details. This has led to some confusion among motor carriers, drivers, and enforcement personnel alike.
The new nine-page CVSA bulletin aims to reduce that confusion with photos and clear instructions on how the containers should be secured, whether the truck has a built-in container securement system or not.
The new inspection bulletin, issued September 28, 2020, is available online at cvsa.org.
This article was written by Daren Hansen of J. J. Keller & Associates, Inc.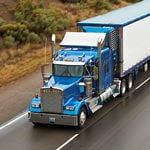 Looking for more on transportation safety?
Get the information and products you need to stay on top of industry changes and comply with regs.